The Location
A walk of about 3 miles up river from Peebles town, then back down the other side. The first part of the walk is wheelchair and disabled friendly. The upper part is not.
What's there
A walk along the river bank, initially through the town park, then through rougher paths with a bit of climbing involved. Peebles town has an excellent range of shops, cafes and pubs.
How to get there
Peebles is about 15 miles south of Edinburgh, signposted from the bypass on the A703, or west of Galasheils, on the A72.
For SatNav, A postcode on Peebles high street is EH45 8AJ. There is a large car park at end of the high street by the swimming baths, and more parking down by the river.
The Walk
You can see a map of the route here.
From the car park, head up river, along the north bank, or the side nearest the town centre. This part of the walk has a good path and goes through the town park.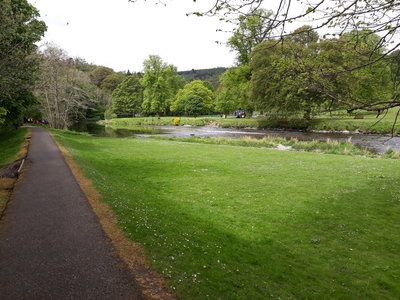 Cross a small foot bridge over a stream (the Eddleston Water) and keep going. At the end of the park the path narrows and climbs up a bit where the bank is rocky,
then back down again and through a meadow by the river, along to Neidpath Castle.
Follow the river round past the castle until you see an old railway bridge.

Take the steps up to the bridge and cross the river Tweed here. Just past the bridge the railway line disappears into a disused tunnel.
You can keep to the left and follow the river bank down river, or take the steep path up the hill and through the trees to cut off the river loop. Now follow the river back to Peebles town. You have two options to cross back to your car, a white footbridge will take you back to the park,
or if you keep on going, then there is another footbridge further down.