The Location
Dunglass Burn is just North of Cockburnspath by the A1 in the Scottish Borders, but right on the border with East Lothian. It is almost perfect if you are heading up to Edinburgh and need somewhere to stop with your dog.
What's there
A perfect stopping point right by the A1, with a quiet safe walk down to the beach. What is missing is toilets and a coffee shop.
How to get there
Cockburnspath is about half way between Dunbar and Berwick on Tweed. The A1 bypasses the village, and the main access is by a roundabout on the A1, signposted Cockburnspath. Turn off the A1 at the roundabout, heading inland, then turn right after about 50 yards heading for Dunglass. Follow this road for maybe 400 yards until it crosses over Dunglass burn, then turn right again just over the bridge and park on the old road. This road is a dead end after maybe 100 yards, so parking is safe. The postcode for Dunglass Estate is TD13 5XF.
The Walk
You can see a map of the route here.
The walk itself is easy to describe. Walk from your car under the railway viaduct, then take the path on the right.
Follow this path along the top of the burn, under the old 19th century A1 bridge and the new bridge, keep going past couple of gates,
and you will eventually reach a stony beach.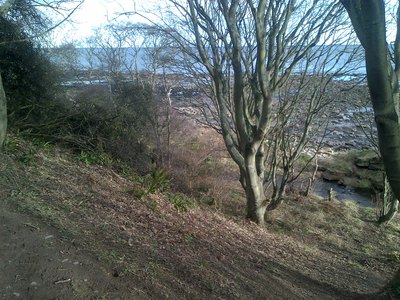 When you've seen enough of the beach, walk back again.
You can vary this walk a bit, by turning right at the first gate, and over the old 17 century bridge.
The path goes up through a cut to some houses and a roadway. Follow the roadway and it joins the A1 at the roundabout. Cross the A1, then walk back along the road to your car. To be honest, it's not a very pleasant diversion, you'd be much better just following the path back the way you came.