The Location
Abbey St. Bathans is north of Duns in the eastern Scottish Borders. It is not the easiest of places to get to, but well worth a visit
What's there
A walk through woods by the Whiteadder Water, with some of the return route by a quiet road. There is a takeaway bakery and cafe at the parking area but it is not open every day. Check the Riverside Bakehouse site for details.
How to get there
Postcode for SatNav - TD11 3TX. This is for the whole village, which is strung out along the road.
Turn off the A1 at Grantshouse, which is about 15 miles north of Berwick on Tweed, onto the A6112, signposted Preston, Duns. Follow this road for about 6 miles down through Preston then take a right fork for Cranshaws, Gifford, on the B6355. Follow this road for almost three miles, until you see a turn off on your left for Abbey St. Bathans. As you enter the village, you pass a woodyard on your left, then turn right by some houses and you will see the car park on your left.

The Walk
You can see a map of the route here. This link opens in a new tab.
Head north out of the car park, and over the footbridge which crosses the Whiteadder Water.
Continue up this roadway, which deteriorates to a trackway as it passes an old caravan.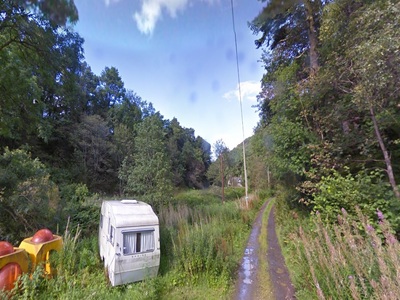 After about 500 yards, you will reach a crossroads in the path. Turn left here, leaving the Southern Upland way,
Copyright Jim Barton and licensed for reuse under Creative Commons Licence.
and follow a path over the Whare Burn and along the top of a field. After about 800 yards you reach the end of the field, where the farm track goes down the inside of the next field, then right down to some woods. Walk through the woods to Shannabank Farm, then down the farm road to the main road.
This main road is quite quiet. Turn left onto the road and follow it back for almost half a mile to Abbey St. Bathans. Rather than return by road all the way, turn left at the Kirk entrance, and follow the Southern Upland way,
over the Whiteadder on a footbridge again, then through the woods and back to the footbridge beside the car park.