The Location
A short walk of approximately 1 1/2 miles at Morpeth.
What's there
No facilities on the walk itself, but just a 10 minute walk from the centre of Morpeth.
How to get there
Postcode for Satnav - NE61 3AA - This is the post code for East Mill, Morpeth, just opposite the layby.
Turn left at the bottom of Morpeth main street (driving or walking) and take the Ashington road, the A197, or 'Dark Lane' as it's called locally. Continue along past Morrisons and the Morpeth NHS centre and you will see a layby on your left. If you are driving, park here.
The Walk
Click here to see a detailed routemap of the walk. It will open in a new tab.
The entrance to the walk is about 30 yards into the layby, a small gateway that leads to a flight of steps going up.
Climb the steps and continue along the pathway as it runs behind a care home. When you come to a signposted path for Howburn wood, take the other path that goes uphill and keep going uphill to the left.
This will eventually bring you out to an open beechwood on the hillside.
Follow the path through the beechwood until you reach a point where it starts to go down again.
You can go down here, but for a different, and slightly tricky walk, take the path that disappears behind some holly bushes and continues along the top of the wood. This path too eventually heads downhill again and rejoins the main path. You can continue to walk up this main path for quite some way, until you decide to turn back.
On the way back, instead of climbing back up the hill again, follow the main path as it goes through a cutting, then runs on top of a steep bank that leads down to the How burn.
Follow this path back through the Howburn wood and so back to the path that leads down to the steps and back to Morpeth.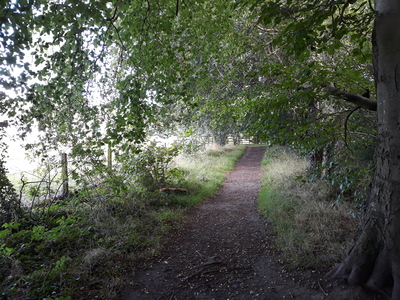 This is one route, but there are lots of side paths and other routes through the woods. This walk is also ideal if your partner is shopping in Morrisons and you need to exercise the dog.