The Location
Ravenscraig Park is on the Fife coast, on the east side of Kirkaldy
What's there
An easy walk of about 1.5 miles through a park, past an old castle, down to the beach, then along to a picturesque harbour. The walk is safe for dogs, apart from a short stretch alongside a main road. The upper part of the walk is disabled friendly, but you need to negotiate steps to get down to the beach.
How to get there
For SatNav, the post code is KY1 2AZ.
From the centre of Kirkaldy, head east until you come to a roundabout with a left turn for Glenrothes, Carry straight on, and Ravenscraig park is just on your right.
From the M90, head east along the A92, then turn off at the Redhouse Roudabout for Kirkaldy east. Follow this road right down into Kirkaldy until you reach the roundabout at the bottom, where you turn left, then find the car park about 200 yards on your right.
The Walk
There is a ween of walking options is Ravenscraig park. The route suggested here takes in most of the sights, but involves a short walk by the side of a busy road to get down to the beach.
You can see a map of the route here.
Keep left when you leave the car park, walk past the bear
and the toilet block until you reach the back off a small housing estate. Here you can take a short diversion on the path behind the houses to reach Ravenscraig Castle.
However to get down to the beach, go through the metal gate that leads into the housing estate, turn left, then at the roundabout find the cut between the houses that leads to the main road. Turn left here, and about 10 yards past the last house on the left, you will see a flight of steps that lead down to the beach. (the gate leading into the housing estate is sometimes padlocked. If it is, retrace your steps back to the toilet block, then leave the park by the gateway here, and turn left along the main road)
Once you get down to the beach, turn left and walk along under the castle
where you will see a cave in the cliff face. Walk along the beach until rocks force you to divert up the slope, then follow the pathway along past the picnic areas near the beach by the harbour.
As you approach Dysart harbour, the pathway goes through a tunnel bored through the rocks
Now you walk inland alongside the harbour to the end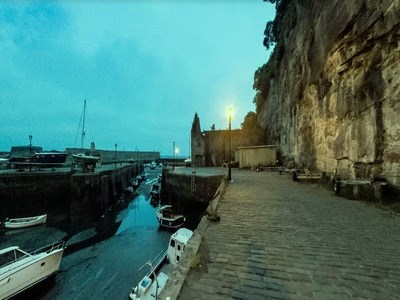 where you find steps that lead up above the harbour to a path called sailor's walk, that leads back through the trees above the harbour. Here you will find a pathway through the park that leads past a walled garden, and so back to your car.